Unlimited Cloud Backup & Restore
The ultimate protection for Office 365 and Dynamics 365—automated, unlimited, flexible, and around-the-clock.
Cloud Backup for Microsoft Office 365, Dynamics 365, & Salesforce
Unparalleled protection for your customers' collaboration and CRM tenants. Automatic backup and speedy content recovery, all from one SaaS interface boasting an award-winning solution that's trusted by millions. Plus, a dedicated portal for MSPs to manage services, support tickets, and free trials!
Backup
Restore
Earn
Protect their collaboration assets and CRM data, no matter where they live.
Don't play hide-and-seek with content and CRM data. Make sure it's always secure with unlimited, automated backups and further safeguard it by bringing your own Microsoft Azure Key Vault Encryption Key to meet compliance regulations.
It's automatic

Backup up to four times a day, every day, to ensure data and content across your customers' Office 365 environments are secure.

Keep it safe

Store their Office 365, Microsoft 365, Salesforce, and Dynamics 365 CRM backup data in our scalable Azure Storage, a private cloud or whichever data center and vendor you'd like.

Sky's the limit

We'll retain 100% of your customer data for the life of your contract. Want extra flexibility and protection? Try unlimited backup subscriptions, or bring your own storage.

Collaborate in Microsoft 365 confidently

Ultimate Planner, Teams, and Groups protection, beyond mail and files, so your customers' channels, conversations, files, sites, meeting items, tasks, and more, are covered.

Protect critical sales and marketing data

Whether your customers rely on Salesforce or Microsoft Dynamics 365 to support CRM functions, their critical sales and marketing data is protected and secure.
Get them back to business—fast!
Choose what to protect, where to store data, and how to recover their content—we're flexible. Your customers' backup data is retained for free for the life of your contract!
On-demand restore

On-demand recovery of customers' Microsoft Office 365, Dynamics 365, or Salesforce content to the online or offline storage location of choice, while maintaining all metadata and permissions.

Search to restore

Find content to restore based on keywords or owner — or restore to a specific point-in-time.

Security rollback

Don't just restore an individual document or version…perform full security rollbacks to undo unintended permissions changes.

Lockdown sharing in Microsoft Office 365

Get anytime access to critical data with on-demand granular restore for emails, files, conversations, tasks, Groups, Teams, and sites.

Microsoft Office 365 end-user restore with AVA

AvePoint's Virtual Assistant helps locate your customers' lost content by responding directly to Teams chats to find lost files or emails, and then easily restore.

Salesforce Sales & Marketing Cloud end-user restore

Our free end-user restore app is available in AppExchange. End user restore helps to scale your helpdesk operations!
Give yourself a raise
Sell Cloud Backup and watch your bank account balance grow. Seamlessly delegate restore to end users with AVA, AvePoint's Virtual Assistant, and ease your admin burden with our handy multi-tenant portal.
Flexible storage

Store their data in the cloud or data center of your choice with support for Microsoft Azure, Amazon S3, Dropbox, and any data destination that's accessible via Secure File Transfer Protocol (SFTP) and File Transfer Protocol (FTP).

Content that rules

Built-in business rules and filters enable you to quickly choose which of your customers' content you want to backup.

Privacy dashboard

Respond to internal audit requests, DSAR, and Right to be Forgotten requests with ease. Ensure customers meet GDPR, NARA 2019, or other governance and compliance requirements to avoid costly fines, and beef up your protection services

Job monitors

Track, manage, monitor and report on backup and restore processes via a central management console, enforce compliance, and leverage long-term retention based on corporate policies.
Create and Manage Multiple Microsoft 365 Tenants at Once.
DEDICATED MSP PORTAL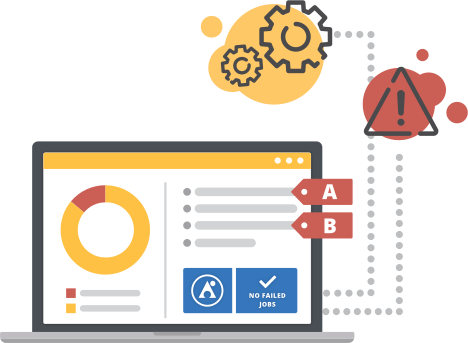 Account Management

View, invite, and manage your customers.

Simplified billing

Tag and organize your customers for simplified billing and policy management.

So very supportive

Quickly gain insight into open support tickets, job statuses, and requests too!

Built-in tagging

Create your own tags to apply to customer accounts. Easily view and act on tagged accounts by applying SLAs, notification settings, and more.

Configurable notifications

No more notification overload! Rule-based notification triggers will alert you to failed or skipped jobs, and proactively create support tickets.

Central command

Centrally manage and view customer licensing, and even manage customer billing profiles.

Grant free trials

Invite users to free trials for FLY (Desktop/Server) directly through your MSP portal.
Purchase Directly From Our Distributor Marketplaces
We're always adding our solutions to additional marketplaces so be on the lookout for when Elements can be purchased in your region!