FLY. The Elevation of Microsoft 365 Migration.
Consolidate and migrate your customers' on-premises or cloud content into Microsoft 365
FLY Migration for Microsoft 365
FLY whizzes through the consolidation and migration of your customers' on-prem or cloud-based mail, file shares, and collaborative content into Microsoft 365. Tight timeline or budget? Our easy, breezy user experience guarantees you'll look like a pro! With flexible licensing options—like flat, fixed rate licensing for unlimited content—costs will keep in check…and dollars will migrate into your bank account!
Analyze
Migrate
Monitor
Gain insight to improve project planning.
Before migration, scan your customer's content, structure, users, and permissions. Understand their existing architecture to avoid potential risks or pitfalls, and to improve their migration planning. See which customizations and workflows might impact the project, might need to be discarded, re-worked, or migrated as-is. Proper planning ensures a speedy migration.
Discover & uncover

Scan to find out what they've got, identify it, decide what to keep, remove what's not relevant, and prep for the future.

Know before you go

Identify customizations, workflows, or other design elements that may impact their migration project.

Just the facts

Get the key stats on data volume, type, and distribution across their source environments – whether mail, files, SharePoint, Groups, or Teams.

The owner's guide

Accurately plan for migration accountability by finding out who owns what content and data.
Migrate mail, files, and collaboration
Migrations can be complex. Your customers want to invest in Microsoft 365, but don't have the in-house expertise to run an effective migration project. We'll provide the tools and technology solutions to simplify the process, accelerate their move to Microsoft 365 and lock down data. Plus, with a dedicated portal for MSPs to manage services, support tickets, and free trials, you can't go wrong.
Keep it together

Keep all permissions and metadata together throughout the move, or be selective and absorb the new security structures on the other side.

Move quickly

Meet and exceed their aggressive migration timelines with multi-threading or High-Speed Migration APIs.

Remain in sync

Keep source and destination in sync with scheduling, and full or incremental migration options until it's rolled out to users.

Make a decision

Migrate in bulk, or select individual containers to migrate. Use filtering to get even more specific.

Transform their data

Comprehensive mapping ensures data from unlike systems are properly reflected and retained.

Unlimited options

Flexible licensing to migrate unlimited tenants with a yearly license, or unlimited content with a per-user license.
Dynamic dashboards and stellar insights
Keep a close eye on your customers' migration progress to make sure it's on schedule and on point. Our dedicated migration dashboard lets you seamlessly validate their migration, generate customizable reports, monitor status, capture data, and even sends automated updates directly to stakeholders.
Less is more

Report on migrated data volumes, as well as site, list, library and item counts, and then capture data for easy tracking, monitoring, and data manipulation.

Powerful templates

Use Power BI report templates for detailed discovery and to create dynamic reports for throttling, performance, migration progress, and more.

Be a boss

Download and analyze executive-level reports on job count and status, object count and status, and migration trend analysis to highlight actions taken.
What We Migrate
File Migration
Source
On-prem File Shares
OneDrive
Google Drive
Box
Destination
Office 365

SharePoint, OneDrive

SharePoint

2016, 2019
Collaboration
Source
SharePoint

2010, 2013, 2016, 2019

Groups

Cross-tenant

Teams

Cross-tenant

Slack
Destination
Office 365

Groups, Teams, SharePoint, OneDrive

SharePoint

2016, 2019
Mail Migration
Source
Gmail
IMAP/POP3
Exchange
Exchange Online

Cross-tenant

PST files
Destination
Exchange Online
Create and Manage Multiple Microsoft 365 Tenants at Once.
DEDICATED MSP PORTAL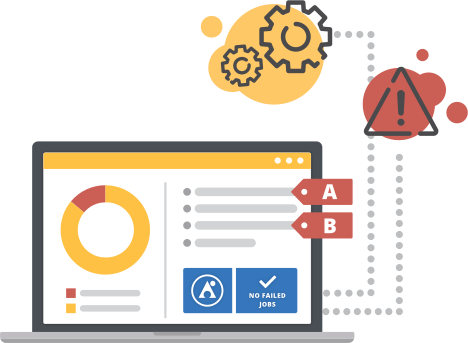 Account Management

View, invite, and manage your customers.

Simplified billing

Tag and organize your customers for simplified billing and policy management.

So very supportive

Quickly gain insight into open support tickets, job statuses, and requests too!

Built-in tagging

Create your own tags to apply to customer accounts. Easily view and act on tagged accounts by applying SLAs, notification settings, and more.

Configurable notifications

No more notification overload! Rule-based notification triggers will alert you to failed or skipped jobs, and proactively create support tickets.

Central command

Centrally manage and view customer licensing, and even manage customer billing profiles.

Grant free trials

Invite users to free trials for FLY (Desktop/Server) directly through your MSP portal.
Purchase Directly From Our Distributor Marketplaces
We're always adding our solutions to additional marketplaces so be on the lookout for when Elements can be purchased in your region!